Ross Bond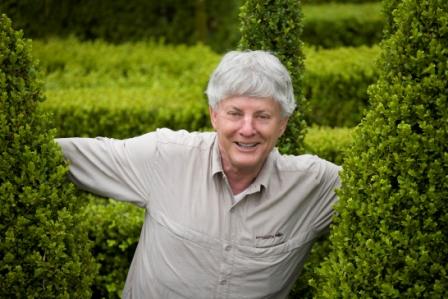 Ross Bond is a second generation nurseryman, with more than 50 years' experience, who started Rent-A-Garden because his customers at Bond's Nursery in Terrey Hills kept asking about plant rentals for their home sales.
Many plant lovers on the north shore and northern beaches will have fond memories of Bond's Nursery and the Mosman Garden Centre. Ross established and ran both retail outlets after getting started in his dad's nursery and landscaping business.
"Customers at both places kept asking about where they could rent plants for their home sale. No-one was doing it at that time. So I thought it was about time that someone did. Rent-A-Garden's service helps people make up to 20-30% more money when they sell their home. One lady was so happy she hugged me!" he said.
Ross has a history of doing things differently.
At Bond's Nursery, he introduced the first coffee lounge/restaurant in Sydney, as well as a children's crèche back in the late 1980s and doubled his turnover in 18 months.
"No-one had a crèche at the time. Yet, the majority of our customers were mothers. Big businesses take so long to appreciate what their customers need. We knew because we talked with our customers first hand every day. As a result we had the highest average sales in Sydney at the time. There's still no-one else with a creche," he said.
Ross is once again offering something unique with Rent-A-Garden.
"Many customers only think about the backyard, but it's the front yard that matters even more! While we're not supposed to judge a book by its cover, many people do and will just drive on by if they don't like what they see," he said.
And it's not just what people see, what people smell is important too. As a collector of rare, perfumed orchids, Ross appreciates that fragrance is a powerful influence.
"You read about how the aroma of brewing coffee and newly baked bread makes a home appealing to buyers. Keep in mind they have to get inside the door to experience that. It can boost the sales cachet of a home when its entry way is fresh and fragrant. In the past, better quality homes sold readily. It's more competitive today."
And he knows about competition, but not just in business.
In years past, Ross was a five-time Australian champion in production sports car racing: "I hung up the gloves when my first son was born. You get a bit more sensible around 40 and realise that you have serious responsibilities to look after."
But his sons have continued in Ross' stead. Both are champions on the ice. His eldest son is a five-time ice-dancing champion for Australia, while his younger son competes for Australia at an international level in senior ice hockey.
No doubt they inherited this talent from their mum, Gweneth, who was a top skater with Pat Gregory's ice troupe in the 1970s. Like Ross, she's run her own business and helped develop the next generation's skills as a TAFE teacher of hairdressing. When Ross taught horticultural marketing at TAFE, he returned full circle to where he studied as a young man.