Why Use Rent-A-Garden?
Rent-A-Garden was created to meet the needs of people whose lifestyles and business priorities leave little or no time for gardening.
Whether you are looking for quality outdoor plants and trees to rent or buy for your property sale or special event, we are here to help. With over 60 years of experience in horticulture, and our own nursery, you will receive expert advice, fantastic plants and service at cost effective prices. Our wide range of plants are well known for hire for their maturity and quality, compared to other Sydney suppliers.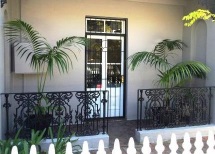 Vendors have discovered how the right first impression can increase an asking price and speed up a sale. Sometimes you need a fresh set of eyes to look at how your property can be improved.
We know what works, so we will provide you honest advice, to save you time and money! We are exterior stylists, not just tradesmen, with over 18 years experience with transforming gardens, courtyards, terraces and property entrances, to make them more attractive for selling.
Rent-A-Garden is the only company in Sydney to offer this complete exterior makeover service to property vendors.
Real estate agents and interior stylists know the importance and $$$ value of top presentation. That's why they regularly refer their clients to us, for plant rentals and pre-sale garden makeovers.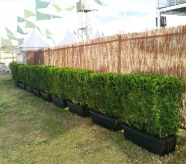 Fragrant gardenias, topiary plants in various shapes, palms of all types & sizes, colourful annuals and Aussie natives are popular with organisers of a wide range of events. Our established, potted hedges are effective privacy or boundary screens. Our large, unique range of trees, including Olives, Citrus, Conifers, Maples, Magnolias and Dwarf Date palms make great special features on their own or together.
See what a difference we can make...
Take a look through our Before and After Makeover Gallery, Special Events Gallery or view our plant catalogue for loads of inspiration! If you are planning to sell your property, start some landscaping, or organise a special event, we invite you to call us on 0450 115 934 or 02 9486 3463 (24hrs), to discuss how we may assist you to make it reality!
Warm regards,
Ross Bond
Rent-A-Garden
Member - Australian Institute of Horticulture