Water Instructions
Watering your beautiful shrubs and/or hedges is very important to ensure that they look their best during your property inspections or special event.
Upon confirmation of your order we will provide you with specific watering instructions for the plants you have ordered.
Generally the plants we supply are quite hardy, and we will advise best options for the areas required. However we request that if you have any concerns regarding the care or health of the plants whilst in your care, you contact us asap to discuss, so we can advise best way forward to avoid any damages to the plants.
Prior to install we will ask that you complete a "Rental & Watering Bond Agreement" to provide details of who will be responsible for watering, and to provide credit card details for a bond payment in the event of any damages. This is a rare event & is only normally when instructions are not adhered to. So please take time to read them carefully and forward them to the person you appoint. If you have any questions please contact us to discuss further.
Download Our Rental & Watering Bond Agreement
Tip: Outdoor pots and troughs will drain clear water, so it's best not to water them just before an inspection.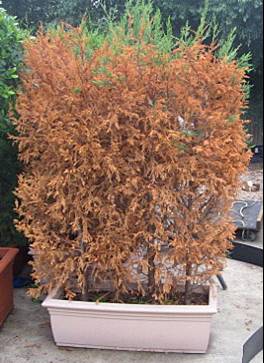 Sadly, the Conifer Hedge shown below was not able to be saved. The client assured us "the heat got it", however the same plants in our nursery had no signs of heat stress.
The watering of our plants is your responsibility whilst rented to you.
Regretfully, in the case of plant damage caused by lack of watering, we will have to charge cost of replacement.
Prefer us to water for you? No problem!
We can water your rented plants for a set fee if the site is easily accessible or a spare key is provided.
An additional fee applies if the key needs to be collected and returned each visit for the duration of the rental term.
For property sale installs, the fee generally includes 2 visits per week, for 5 weeks (on a normal 6 week rental period).
If you have any concerns or questions whilst our plants are staying with you,
please let us know ASAP!